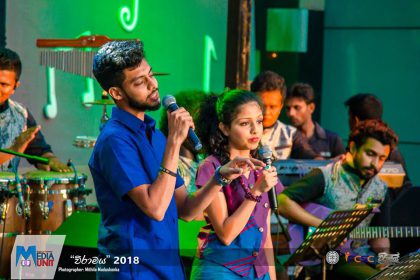 The student community at SLIIT has the unique advantage of not only gaining knowledge in a specific area of study but also experiencing other non-academic areas that help them to hone important life-skills and become confident, well-rounded, creative individuals.
Every year, the Faculty of Computing Student Community at SLIIT stages an extravaganza of the performing arts that bring out into the open, the latent creative talents of the students, in the area of classical music and dancing.
This year "Viramaya 2018" held for the fourth time was a breath-taking exhibition of creative talents among SLIIT's current and alumni student community. The focus on display was on oriental and classical performing arts with dancing, drama and singing taking pride of place. It was a stunning showcase of what the gifted SLIIT students were capable of.
The performance of the participants were outstanding and professional. The audience of fellow students that packed the auditorium reciprocated with appreciative applause that reverberated ecstatically, reiterating that the audience was amply entertained by the gifted performers.
"Viramaya 2018" – "Sarasaviyen Jeevithayata" was further enriched by a team of renowned artistes such as Karunarathna Divulgane, Samitha Erandathi Mudunkotuwa, Krishantha Erandaka, Ridma Weerawardena and Peshala Manoj Band whose performances heightened the glamour and grandeur of the evening.
The performing students received guidance to develop and raise the standard of their performance to greater heights by Pavan Gamage, last year's President of FCSC. 'Viramaya 2018' benefitted from the support of generous sponsors, especially the Main Sponsor, Sri Lanka Telecom and SLIIT Photography Partner – the Media Unit., Faculty of Computing,
Akila Wijesundara, President, Faculty of Computing Student Community (FCSC) commented "Organizing and staging 'Viramaya 2018' has resulted in far reaching benefits that go well beyond an entertaining evening for the performers and the audience. The feedback we have received clearly proves that the show itself was of high quality and much appreciated. We would also like to extend our sincere appreciation to Pasan Akalanka Pathirana whose brainchild 'Viramaya' has made a great difference to the student community at SLIIT bringing lifelong benefits to a large number of students who are closely involved in making the show come to life. The extensive support we have received from the SLIIT Management has helped to embellish the show and define what makes SLIIT an outstanding experience in the life of its students."