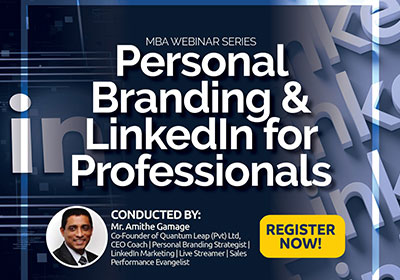 SLIIT – Faculty of Graduate Studies & Research has organized an insightful 𝘄𝗲𝗯𝗶𝗻𝗮𝗿 𝗼𝗻 : 𝗣𝗲𝗿𝘀𝗼𝗻𝗮𝗹 𝗕𝗿𝗮𝗻𝗱𝗶𝗻𝗴 𝗮𝗻𝗱 𝗟𝗶𝗻𝗸𝗲𝗱𝗜𝗻 𝗳𝗼𝗿 𝗽𝗿𝗼𝗳𝗲𝘀𝘀𝗶𝗼𝗻𝗮𝗹𝘀.
If you are an enthusiast, to learn great ways to reach an engaged audience and build your personal brand in this fast paced digital era, this is a perfect webinar for you!
The session will be conducted by Mr. Amithe Gamage, Co-Founder of Quantum Leap Pvt. Ltd, CEO Coach, Personal Branding Strategist, LinkedIn Marketing, Live Streamer and Sales Performance Evangelist on Sunday 14th of November 2021, from 4.00PM to 05.00 PM via Zoom.
Register now: https://zoom.us/webinar/register/WN_dBaV3TGuSUuvt8a37ac51g
(𝑌𝑜𝑢 𝑤𝑖𝑙𝑙 𝑟𝑒𝑐𝑒𝑖𝑣𝑒 𝑡ℎ𝑒 𝑧𝑜𝑜𝑚 𝑙𝑖𝑛𝑘 𝑡𝑜 𝑡ℎ𝑒 𝑒𝑚𝑎𝑖𝑙 𝑤ℎ𝑖𝑐ℎ 𝑦𝑜𝑢 𝑝𝑟𝑜𝑣𝑖𝑑𝑒 𝑎𝑡 𝑡ℎ𝑒 𝑟𝑒𝑔𝑖𝑠𝑡𝑟𝑎𝑡𝑖𝑜𝑛)
SLIIT, The Next You!