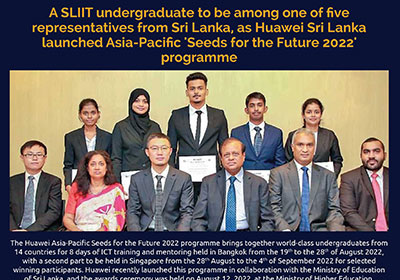 A SLIIT undergraduate to be among one of five representatives from Sri Lanka, as Huawei Sri Lanka launched Asia-Pacific 'Seeds for the Future 2022' programme
The Huawei Asia-Pacific Seeds for the Future 2022 programme brings together world-class undergraduates from 14 countries for 8 days of ICT training and mentoring held in Bangkok from the 19th to the 28th of August 2022, with a second part to be held in Singapore from the 28th August to the 4th of September 2022 for selected winning participants. Huawei recently launched this programme in collaboration with the Ministry of Education of Sri Lanka, and the awards ceremony was held on August 12, 2022, at the Ministry of Higher Education.
Ms. Shahani M.N.A (IT19962412), an undergraduate student at SLIIT following her BSc (Hons) IT – Information Systems Engineering (ISE), is one of five students representing Sri Lankan Universities. Shahani is also the Treasurer of SLIIT's ISE Student Community (ISESC). Based on her GPA, she was nominated to the 'Seeds for the Future' program by the ISE program coordinator/ ISESC Advisor Dr. Dasuni Nawinna and the Head/Department of CSE Prof. Sanath Jayawardena. This opportunity was shared with the departments by Prof. Colin Pieris in June 2022.