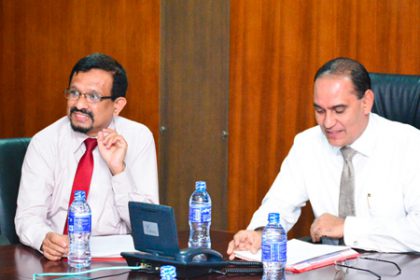 Faculty of Business, SLIIT organized a meeting with their Industry Consultative Board on 8th of November 2016 at SLIIT Metro Campus. The aim of Faculty Industry Consultative Board (FICB) meeting is to continue to produce well qualified all rounded graduates by enhancing the BBA program through the continuous feedback from the Industry.
Through this act the industry will benefit by getting more appropriate candidates to their organisations and students of the FOB will increase their employability.
Dr. Kishu Gomes ( CEO-Chevron Lubricants Lanka PLC) , Mr. D. C. A. Gunawardena (Former Director General- Department of Census and Statistics), Mr. Ariyaseela Wickramanayake (Chairman- Master Divers (Pvt) Ltd), Dr. L N Senaweera ( Former Director General- Sri Lanka Standards Institution), Dr. Rohan Fernando (Executive Director- Aitken Spence PLC) and Mr. Kulatunga Rajapaksa (Managing Director-DSI Samson Group) , Professor Lalith Gamage (President / CEO  SLIIT) , Professor Chandana Perera ( Dean-Faculty of Business-SLIIT), Ms. Mano Weligodapola (Head-Department of Business Management-SLIIT), Mr. Kingsley Bernard (Head-Department of Information Management) and members of the academic staff of Faculty of Business participated in the Meeting.