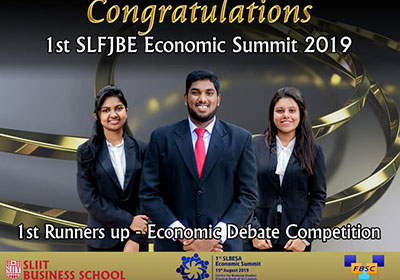 1st SLBESA Economic Summit 2019 under the theme of "Strengthening the External Sector to achieve a 7% Economic Growth" organized by the Sri Lanka Business Economics Students' Association (SLBESA) was held on 15th of August 2019 at the Centre for Banking Studies (Central Bank of Sri Lanka), Rajagiriya, Colombo, Sri Lanka.
SLBESA is a national level forum of Business Economics undergraduates established by the Department of Business Economics, University of Sri Jayewardenepura in collaboration with the Department of Business Economics, University of Colombo with the vision of paving the way for undergraduates to mould their career life with comprehensive knowledge and skills.
During the summit; several competitions were held and SLIIT business school represented two teams as SLIIT Team A and SLIIT Team B. SLIIT Team A; could win the first runners up in the Economic debate competition which had 12 teams from different state and private universities.
Winning team received Rs. 300,000 worth of CMA scholarships (Rs. 100,000 worth of scholarships for each student).