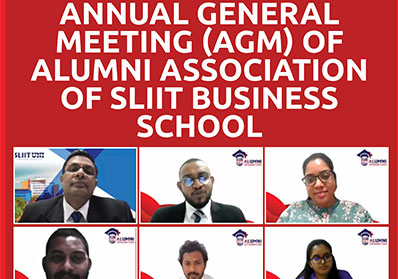 The Annual General Meeting (AGM) of SLIIT Business School Alumni Association was held on the 22nd of December 2021 via Zoom Platform. The meeting was organized by the SBS Alumni Committee 2017/2021.
The Founder President of the SBS Alumni Association, Mr. Buddhitha Jagoda delivered the welcome speech and presented the Annual Report. The Dean of SLIIT Business School, Prof. Samantha Thelijjagoda addressed the gathering and appreciated the Alumni's contribution towards the SLIIT Business School for the last four years. The election proceedings were conducted by the former Secretary of SBS Alumni Association, Ms. Chalani Kuruppu, and appointed the Officer-bearers and Committee members for the year 2022/2023.
Mr. Kasun Deemantha Caldera was elected as the President of the SBS Alumni Association for the period of 2022/2023.