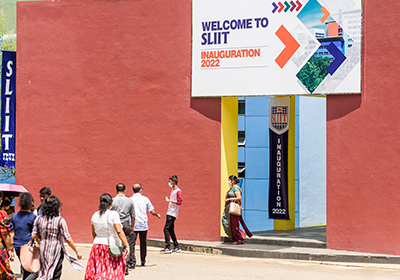 SLIIT warmly welcomed its new batch of students with a great enthusiasm and pride on 10th and 11th of October 2022.
The inauguration ceremony hosted for the students and their parents in the disciplines of Computing, Engineering, Business, Architecture and Humanities & Sciences. The Ceremony was graced with the presence of Chancellor – Professor L. L. Ratnayake, Deputy Vice-Chancellor – Professor Nimal Rajapakse, Deans of the respective Faculties, Director / Academic Affairs & Academic Relations, Director / Student Services & Outreach, Head/Campus Security and Safety Unit & Major Projects, Heads of the Departments, Academic and Non-academic staff of SLIIT. Students were addressed and congratulated for being selected to SLIIT for their higher education. The session was followed by interactive sessions for the freshers, organized by SLIIT Sports Council and Clubs & Societies of SLIIT.
We believe and hope that as they embark on this new journey, they will shape their careers and personalities allowing them to one day contribute to the world as wholesome individuals, effectively driving it forward and paving the way for a brighter future.The newly enrolled students will go through a comprehensive programme to help them successfully transition from a school environment to a university environment.