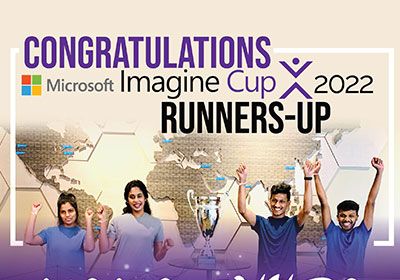 Congratulations Team Nana Shilpa!
Out of tens of thousands of students from over 160 countries that enrolled for the Microsoft Imagine Cup 2022, Team Nana Shilpa of SLIIT Faculty of Computing ranks as the runners-up which was staged in America. Nana Shilpa is a mobile application solution for screening and refining dyscalculia and dysgraphia learning difficulties in Sinhala-speaking elementary school kids.
The Imagine Cup is a global platform that allows students to learn new skills, gain access to exclusive training, unleash orienteering possibilities, and make a difference in the world.
Supervisor: Prof. Samantha Thelijjagoda | Co-Supervisor: Ms. Jenny Krishara | External Supervisor: Dr. W.M.K. Wanigasingha | Students: Chamil Diluksha, Kalpani Abeysinghe, Pamodya Maheshani and Prabath Shalitha.