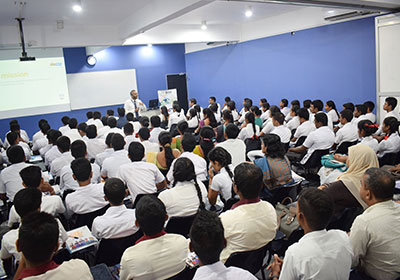 SLIIT Codefest School Workshop 2019 – Southern Province
SLIIT Codefest 2019 is national software competition organized by Faculty of Computing – SLIIT with Ministry of Education. In parallel with SLIIT Codefest 2019 we are organizing a series of school workshops around the country with the intention of educating school students about the software development activities of SLIIT Codefest.
Southern province workshop was held on 10th October 2019 at SLIIT-Matara Centre with the participation of 165 students representing 26 schools from Galle, Matara and Hombanthota.
The awareness session was conducted by Mr. Kavinga Yapa Abeywardena and Ms. Thilmi Anuththara.
SLIIT Codefest workshops are coordinated by Dr. Pradeep Abeygunawardhana. This workshop was organised by SLIIT-Matara Centre management. Dr. Nuwan Kodagoda is the main coordinator of SLIIT Codefest 2019.