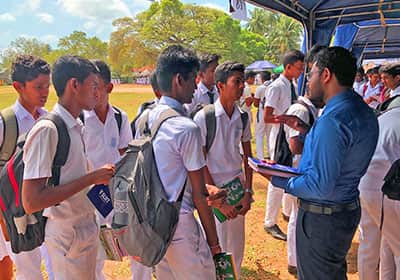 SLIIT lends a hand at the Dhammissara College Career Exhibition 2019
In an effort to raise awareness and educate students from all across the island with regards to career opportunities and paths available after school, SLIIT consistently organises and assists with career expos and exhibitions during each calendar year. One such event was the recent career exhibition held at the Dhammissara College Nattandiya, on February 14th.
Organised by the Nattandiya Zonal Education Office with the aim of providing students with information and knowledge related to possible career options following their A/L Examinations, the event was a wonderful success. Both students and teachers were active and enthusiastic participants, and it was highly motivating to see the vigour with which they approached the entire initiative. We wish them all the very best in their future endeavours, and wish them a bright and promising future.