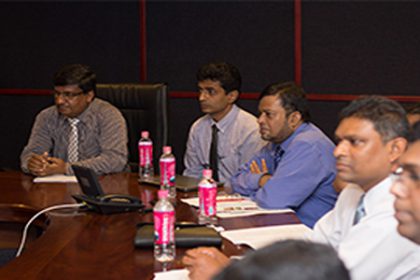 Department of Civil Engineering in the Faculty of Engineering at SLIIT successfully held its first Department Industrial Consultative Board (DICB) meeting on 30th October 2014 at SLIIT Malabe Campus with the participation of eminent industry representatives. The main aims of the DICB meeting was to give an overview of the civil engineering degree programme at SLIIT to its members and obtain their views to enhance the graduate attributes to suit the industry needs. The members of the DICB witnessed the state-of-the-art facilities available at the Department of Civil Engineering at SLIIT before the meeting.
Dean, Faculty of Engineering Prof. Ashok Peris briefly explained the history of development of the Faculty of Engineering at SLIIT and explained the facilities available at SLIIT to produce well rounded Engineering professionals. The Head, Department of Civil Engineering Prof. Saman Thilakasiri explained the human and physical resources available in the Department to deliver the Civil Engineering curriculum to produce Civil Engineers most sought after by the local and the foreign industry.
During the discussion, the industry representatives appreciated the progress the department had made within the short time period and gave valuable ideas to enhance the entrepreneurship capabilities of the graduates, industrial training experience of the graduates, essential skills of civil engineers, and skills of graduates in high demand areas. The department welcome the suggestions made by the industry and plan to incorporate them in the degree programme the best possible way.
Leading civil engineering professionals from the major organizations such as CECB, RDA, Stems Consultants, RN Group, Dept. of Irrigation, Sanpiling (Pvt) Ltd, Access Piling (Pvt) Ltd, International Construction Consortium, Sierra Piling, NWSDB and Prof. Laxman Rathnayake (Chairman, SLIIT) together with the members of the academic staff of the department participated in the meeting.