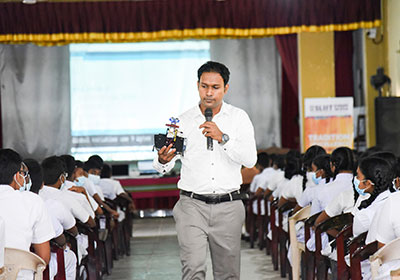 𝗥𝗢𝗕𝗢𝗙𝗘𝗦𝗧 𝗪𝗼𝗿𝗸𝘀𝗵𝗼𝗽 𝗮𝘁 𝗦𝗮𝗻𝗱𝗮𝗹𝗮𝗻𝗸𝗮 𝗖𝗲𝗻𝘁𝗿𝗮𝗹 𝗖𝗼𝗹𝗹𝗲𝗴𝗲
The Department of Electrical and Electronic Engineering at the SLIIT presentsROBOFEST, the annual robotic competition geared to expose the robotic design talents of students all around the country.
The main aim of the competition is to raise awareness regarding robotics among the younger generation. On August 24th, the department with the support of the IEEE Student Branch of SLIIT was able to successfully conduct a technical session in order to facilitate the Robofest school category competition The session took place in the main hall of Sandalanka Central College.