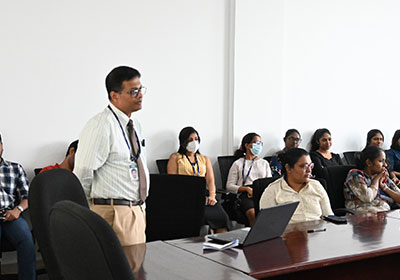 The seminar on "Coconut fiber-reinforced polymer composite for non-load bearing wall" was held on Thursday 30th March 2023. Dr. P. Dhammika Dharmaratne, a Senior lecturer (HG) attached to the department of Civil Engineering at SLIIT, presented his research, motivating the staff for innovative and commercialization research. He explained how he has carried out the research step by step and how he is looking for opportunities to commercialize the material.
"This study's main aim was to develop a lightweight walling panel for apartment buildings by employing coconut fibre [coir] with waste polyethylene. The sample from which optimum results obtained relevant to the coir length, weight fraction, pressure, and temperature were used to develop a composite sandwich panel. The most suitable manufacturing conditions were studied."
The moderation of the seminar was done by Dr. Muditha Karunaratne. The seminar was organized by the Higher Degree and Research Committee of the Faculty of Engineering, and 45 staff members from the Faculty of Engineering attended the seminar.