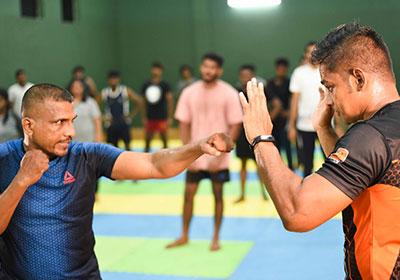 With the strategic intention to promote Thai Boxing among Sri Lankan higher education sector, SLIIT collaborated with SLIIT Leo Club & SLIIT MMA Team and organized a Strike Force programme under the theme of 'Experience the Art of Eight Limbs'.
Leo Club of SLIIT jointly organized this with Sri Lanka Muay Thai Federation for the first time in the Sri Lankan higher education sector. The President of the Thai Boxing National Federation, Deshabandu Mr. Dilan Peiris attended the event as the chief guest.
The workshop was held on 15th March 2023 at SLIIT Badminton Indoor Stadium. All the players were given a certificate of participation. Furthermore, the players who showed the best performance were also recognized.