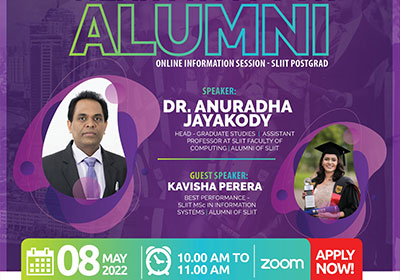 Join a special information session on SLIIT's MSc and MBA programmes. Learn your eligibility, discount schemes, and more.
Date: May 8, 2022 (Sunday)
Time: 10.00 AM – 11.00 AM Onwards
Platform: Zoom
Register for this session:
https://zoom.us/meeting/register/tJErde6gpzkuE9bMzgJrBmN0TTYjtu7DkzEt
𝑇ℎ𝑒 𝑙𝑖𝑛𝑘 𝑤𝑖𝑙𝑙 𝑏𝑒 𝑠𝑒𝑛𝑡 𝑡𝑜 𝑡ℎ𝑒 𝑒𝑚𝑎𝑖𝑙 𝑎𝑑𝑑𝑟𝑒𝑠𝑠 𝑦𝑜𝑢 𝑝𝑟𝑜𝑣𝑖𝑑𝑒𝑑 𝑎𝑡 𝑡ℎ𝑒 𝑟𝑒𝑔𝑖𝑠𝑡𝑟𝑎𝑡𝑖𝑜𝑛
Contact: 077 760 5077 (MSc) or 076 497 1716 (MBA) for more information.
SLIIT, the Future Awaits you!