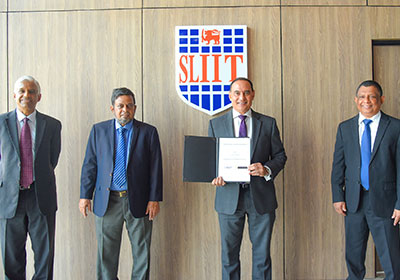 SLIIT & Curtin University Strengthen their Bonds – Transnational Program Agreement signing ceremony.
It was a memorable day for SLIIT when Curtin University Australia entered into a Transnational Program Agreement with SLIIT on 29th of October 2020. This agreement is aimed at strengthening the 20-year partnership and offering a full range of Curtin degrees to our local students which will broaden their horizons.
This ceremonial occasion was witnessed by Professor Lalith Gamage – Vice-Chancellor/CEO of SLIIT, Professor Lakshman L. Ratnayake – Chancellor of SLIIT, Professor Nimal Rajapakse – Deputy Vice-Chancellor SLIIT, Dr Athula Pitigala-Arachchi newly appointed Deputy Vice-Chancellor International of SLIIT together with Professor Seth Kunin – Deputy Vice-Chancellor, International – Curtin University and Mr. Nigel De Silva – Director, Transnational Education and Partnerships- Curtin University.