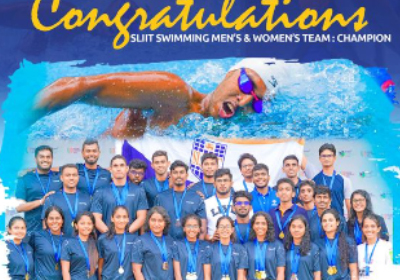 Congratulations to the Winners of SLIIT!
NSBM U-SPORTS Championship 2022, organized by NSBM Green University, concluded on 6th October 2022 at NSBM grounds. Bringing alive spiritful performances of university sports stars in the final events of the championship, the Grand Final of U-Sports 2022 brought about an end to a series of competitive tournaments of 12 sports that continued over two weeks with the participation of 500+ athletes representing many Sri Lankan universities all across the country.
It is with great pride that we announce that the Overall Runners-up of U-Sports 2022 was won by SLIIT and SLIIT emerged as the Champion of Swimming Men's and Women's and Chess Men's and Women's tournaments.
And also, SLIIT players were able to achieve more victories as mentioned below:
🏆 SLIIT Badminton Men's Team – Runners-up
🏆 SLIIT Cricket Team – 2nd Runners-up
🏆 SLIIT Football Team – Runners-up
🏆 SLIIT Women's Hockey Team – Runners-up
🏆 SLIIT Netball Team – 2nd Runners-up
🏆 SLIIT Rugby Team – 2nd Runners-up
🏆 SLIIT Men's & Women's Track & Field Boys – Runners-up
🏆 SLIIT Men's & Women's Track & Field Boys – Runners-up