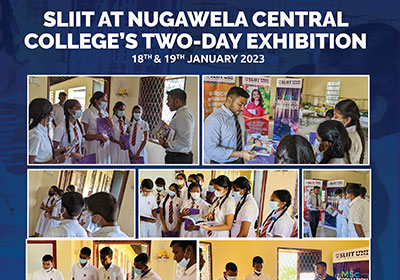 SLIIT at Nugawela Central College's Two-Day Exhibition
SLIIT participated at the Nugawela Central College, Kandy, for a two-day exhibition which was held on the 18th and 19th of January, 2023 at Nugawela Central College – Kandy.
Students were able to gain valuable insights about SLIIT's local and foreign degree programmes, discover the career opportunities available for each specialisation, explore university life at SLIIT and for see their future as a globally employable graduates with a well-recognized degree from SLIIT. This session was represented by SLIIT
Marketing Division.