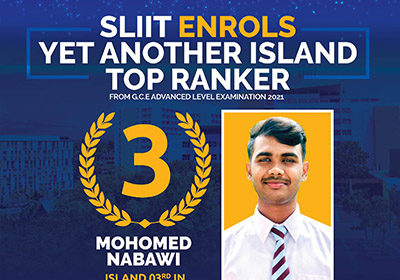 SLIIT 𝐄𝐧𝐫𝐨𝐥𝐬 𝐘𝐞𝐭 𝐀𝐧𝐨𝐭𝐡𝐞𝐫 𝐈𝐬𝐥𝐚𝐧𝐝 𝐓𝐨𝐩 𝐑𝐚𝐧𝐤𝐞𝐫
In recognition of outstanding performance, SLIIT awarded a full scholarship to another Island's top scorers in the G.C.E. A/L Examination 2021 for securing the all-island third place in Commerce Stream – Nihad Nabawi a student from St. Thomas' College, Matara.
We take this opportunity to offer our heartfelt congratulations to Nihad Nabawi and his alma mater, St. Thomas' College, Matara. A lot is owed to the school's diligent teachers and parents who have guided his footsteps and helped him achieve his goals".