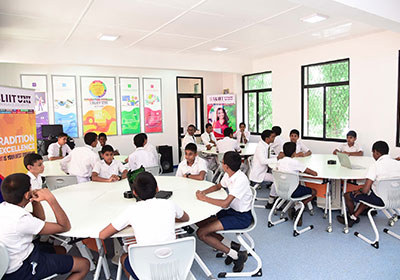 SLIIT partners in a pioneering project to establish an Innovation Lab for STEM Education at Royal College, Colombo 07
A fully equipped Innovation Laboratory for STEM education at Royal College, Colombo developed by SLIIT, was inaugurated on Monday, 05th of December 2022. This special occasion was graced by Prof. Nimal Rajapakse – Deputy Vice-Chancellor of SLIIT, Mr R.M.M.Rathnayake – Principal of Royal College, Dr. Hiran Wimalaratne – Secretary of the Royal College Union, Dr. Malitha Wijesundara, Dean Faculty of Humanities and Sciences of SLIIT and the Chairman of ICT Advisory and Management Committee of the Royal College Union and, Mr. Uditha Gamage – Director Student Services and Outreach of SLIIT along with deputy principals and the ICT teachers of Royal College.
This pioneering initiative by the ICT Advisory and Management Committee of the Royal College Union was fully funded by SLIIT, as this promotes use of technology among secondary students to solve problems using creativity and critical thinking. The Lab is able to support IoT, Robotics and selected areas in Industry 4.0. The lab features custom designed flexible and collapsible furniture for group work and prototype testing. The floor has been specially designed for testing mobile robots.
SLIIT, having a wide portfolio of undergraduate degree programmes covering all areas of STEM (Science, Technology, Engineering and Mathematics) is particularly interested in developing a passion for these areas among young students. Innovation is an essential in a dynamic society with unforeseen challenges. Therefore, we believe that initiatives such as this will ensure future generations will be ready to tackle such challenges successfully.