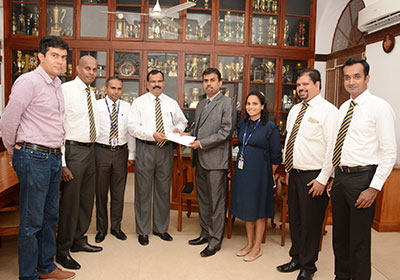 SLIIT recently joined hands in with Royal College Colombo through the sponsorship proposed Innovation Lab for STEM education. As a higher education institute that places great value on the importance of innovation, SLIIT is proud to be able to support this pioneering endeavor at Royal College.
SLIIT, having a wide portfolio of undergraduate degree programmes covering all areas of STEM (Science, Technology, Engineering and Mathematics) is particularly interested in developing a passion for these areas among young students. Innovation lab is aimed at developing innovation and critical thinking among students, which leads to creativity. This is considered essential in a dynamic society with unforeseen challenges. Therefore, we believe that initiatives such as this will ensure future generations will be ready to tackle such challenges successfully.
The sponsorship amounting to Rs 1.5 million was handed over to the Mr. B. A. Abeyrathna – Principal of Royal College Colombo 07 by Mr. Uditha Gamage -Director/ Development & Engineering Services, SLIIT in the presence of Mr. Mithila Mendis, Secretary of Royal College Union and Dr. Malitha Wijesundara, the Chairman of ICT Advisory and Management Committee of the Royal College Union.