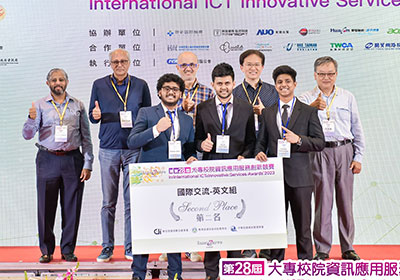 SLIIT earns another prestigious international accolade! Congratulations to Team BrightMinds!
We are delighted to announce that Team BrightMinds, supervised by Dr. Dilshan De Silva and co-supervised by Mr. Samitha Vidhanaarachchi, along with the students Shehan Silva, Chandur Dissanayake, Anjula Jayasinghe, and Rishitha Dilshan, clinched the 1st runner-up position at the 2023 International ICT Innovative Services Awards (InnoServe Awards) held in Taipei, Taiwan for the 28th consecutive year.
This noteworthy accomplishment not only showcases the exceptional talent within our organization but also fills us with immense pride to see our national flag prominently represented in other countries. The event drew participation from over 2,000 teachers and students representing over one hundred universities and colleges globally. Teams from diverse regions, including Australia, Belgium, Canada, Hong Kong, Indonesia, Russia, Singapore, Sri Lanka, Thailand, and Vietnam, contributed to the vibrant and pioneering atmosphere of this international competition.