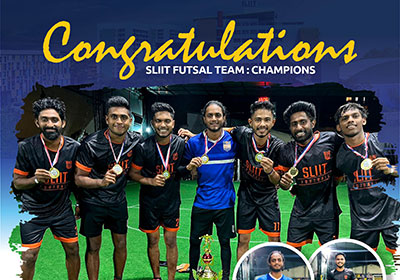 Congratulations, SLIIT Futal Team : Champions
The Rotaract Futsal League 2023, organized by the Rotaract Colombo Mid Town, was held on January 29, 2023, at the Colombo Futsal Club, Dehiwala. This year, 16 university teams from all over the island participated in this tournament. SLIIT competed in the first-round matches under group D, and at the end of the first-round matches, SLIIT was leading group D.
The SLIIT team defeated the Business Management School, Colombo 06 team by 01 – 00, and the championship of the tournament was secured by the SLIIT Futsal Team. Sachintha Jayasinghe of SLIIT was awarded the Best Goalkeeper of the Tournament, and Asjad Riyas was nominated as the Golden Boot Winner of the Tournament.