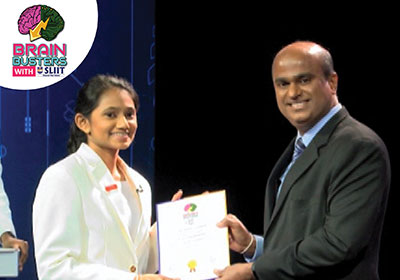 Winner of Episode 6 of Brain Busters with SLIIT – Season 2
Congratulations to Sanuka Dulmina Wijesooriya of Mahinda College – Galle for winning the Sixth Episode of Brain Busters with SLIIT Quiz programme- Season 2 on TV 1.
The contestants of this episode were from Mahinda College – Galle, Ladies' College – Colombo, SRI SUMANGALA COLLEGE PANADURA. Contestants were selected from over 3000 school students from preliminary rounds held island-wide.
Prof. Koliya Pulasinghe, Professor, Faculty of Computing – SLIIT delivered an inspirational speech to the audience and the participants.
Dr. Gobithas Tharmarajah, Director – Value Engineering Cell/Senior Lecturer – SLIIT – Faculty of Engineering Malabe, Sri Lanka, Ms. Asangi Jayasinghe – Senior Manager Business Development – SLIITand Mrs. Anupa Muhandiram – Assistant Director Education from Ministry of Education, Sri Lanka were the Panel of Judges at this round. This is an initiative of Business Development Division of SLIIT.