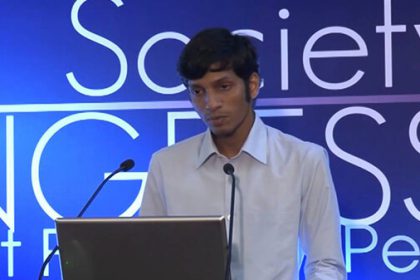 SLIIT alumni, Ganindu Nanayakkara, has made Sri Lanka proud by winning USD $500,000, at the 'Verizon 2015 Powerful Answers Award' contest for his novel project titled 'iHelmet'.
Competing with over 1,400 entrepreneurs, Ganindu, was adjudged the first runner-up.
Ganindu's journey with venture Helmet started as a final-year student project for his undergraduate degree at SLIIT.
Initially developed as a method of enhancing military stealth and prowess in ground-combat, the iHelmet won Ganindu the Gold Award at the National Best Quality ICT Awards (NBQSA) in 2013. He also presented his project at the prestigious Infotel in 2013.
The iHelmet has since evolved, to its present manifestation in 2015, where it has been adapted for use by motorists. Competing in the transportation category for Verizon's Powerful Answers Award, iHelmet's intelligent bolt-on software utilises a range of sensors to continuously monitor sensor readings, while communicating with a user's smartphone via Bluetooth connectivity.
When the iHelmet software is attached to a motorcycle helmet, it transmits information- ranging from high-speed alerts to air quality, to even an emergency SOS signal.
US technology giant Verizon's, 'The Powerful Answers Award', is a multi-million dollar innovation opportunity and challenge, for a single, or teams of entrepreneurs, and organisations across the world, to invent impactful solutions in the categories of Transportation, Emergency Response, and the Internet of Things. These categories were chosen by Verizon for the 2015 contest, for being areas of significant world impact, as well as scope for ground-breaking innovation to address some of the key issues in our world.
The Powerful Answers Award is heavily contested by innovators worldwide; a year-long competition which attracts the best international talent, culminating with the selection of the most impactful inventions across the three categories, with the combined prize money awarded totalling USD $6 million.
Specialized in Software Engineering, an IT graduate, Ganindu, has followed the Curtin University degree pathway at SLIIT.
SLIIT student makes Sri Lanka proud at Powerful Answers Awards – for More Info
Click Here