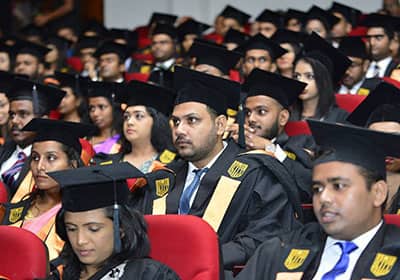 Showcasing a celebration of two decades of academic excellence, Sri Lanka's premier higher education institute SLIIT, held its 20th annual convocation ceremony at the Malabe Campus recently.
Conducted over two days on 21st and 22nd February, the institute conferred Bachelor's and Master's Degrees in Information Technology, Engineering, Quantity Surveying and Business Management to over 1100 students and a doctoral degree during the colourful ceremony.
Gracing the first days' proceedings as Chief Guests were Prof. Deborah Terry, Vice Chancellor, Curtin University, Australia, Dr. Harsha Subasinghe, Chief Executive Officer, Codegen, International, Mr. Jonathan Alles, Managing Director, Hatton National Bank and Mr. Priyantha Mayadunne, Secretary, Ministry of City Planning, Water Supply and Higher Education.