my-profile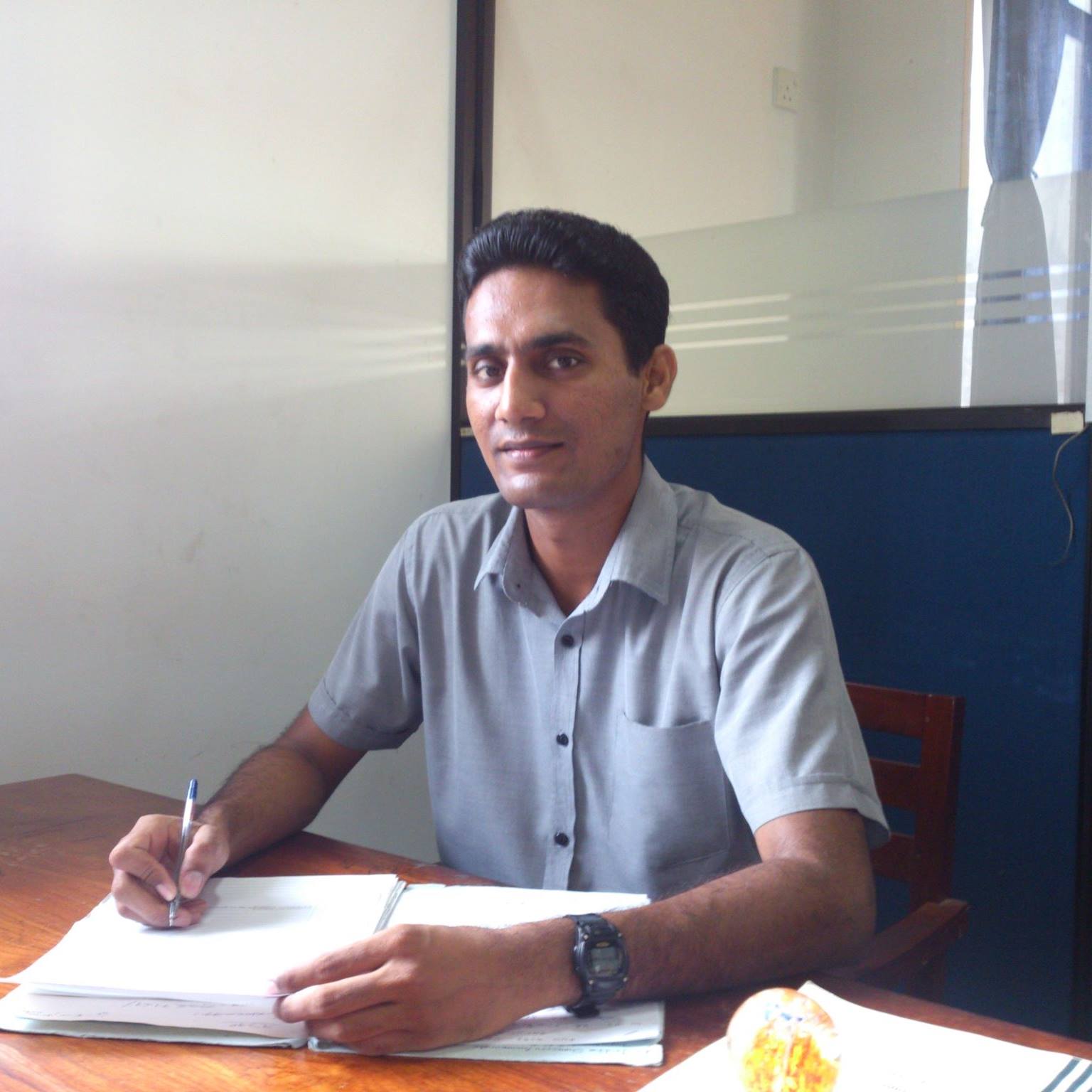 Contact
+94117544801
indika.a@sliit.lk
Mr. Indika Amarasinghe
Lecturer
Faculty of Humanities & Sciences | Department of Mathematics and Statistics
Mr. Indika Shameera Amarasinghe is currently working as a Full-time Lecturer in Mathematics at the Department of Mathematics and Statistics (DMS) at SLIIT UNI, Malabe. He has more than 9 years of lecturing and academic experience in Mathematics in Sri Lankan state and non-state Universities. He has maintained a very good track record on academic publications in Mathematics (Pure Mathematics) by publishing many refereed publications in reputed International Mathematics Journals, even way before (since the period of first-year undergrad as the single author) obtaining his Bachelor's Degree.
Lecturer in Mathematics (Full-Time), Department of Mathematics and Statistics, Faculty of Humanities and Sciences, Sri Lanka Institute of Information Technology (SLIIT UNI), Malabe. (2022 Dec - Present)
Lecturer (Adjunct) in Mathematics, Department of Mathematics and Statistics, Faculty of Humanities and Sciences, Sri Lanka Institute of Information Technology (SLIIT UNI), Malabe. (2021 May - 2022 Dec)
Teaching Assistant (Full-Time) in Mathematics - Department of Mathematics, Faculty of Natural Sciences, The Open University of Sri Lanka (OUSL), Nawala. (2016 Oct - 2019 Mar)
Graduate Mentor & Student Mentor in Mathematics – Department of Mathematics, The Open University of Sri Lanka (OUSL), Nawala. (2014 Jan - 2019 Mar)
Visiting Lecturer in Mathematics – Skills College of Technology (SCOT Campus), Nugegoda. (2019 May - 2021 Apr)
Lecturer in Mathematics (Contractual/Part-time basis) – Colombo School of Construction Technology (CSCT Campus), Pita Kotte. (2019 Jun - 2023 Feb)
Visiting Lecturer in Mathematics - Swinburne University of Technology, Australia (In Partnership with Nawaloka College of Higher Studies (NCHS), Colombo) (2022 Jun - 2023 Feb)
Visiting Lecturer in Mathematics – Nawaloka College of Higher Studies (NCHS), Colombo (For USA Transfer Programs). (2022 Jun - 2023 Feb)
Visiting Lecturer in Engineering Mechanics – British Institute of Engineering & Technology (BIET), Colombo. (2021 Aug - 2022 May)
Visiting Lecturer in Mathematics – Matrix Institute of Information Technology, Colombo. (2020 Jan - 2021 Jan)
Lecturer (Part-time) in Mathematics - Metropolitan College, Colombo. (2022 Mar - 2023 Feb)
Volunteer/Invited Appointments
Serving as an Academic Referee/Reviewer in Taylor and Francis Peer-reviewed Journals (From 2016) and in some journals of other international academic publishers.
Bachelor of Science (Hons) Degree in Mathematics (Pure Mathematics Major), The Open University of Sri Lanka (OUSL), Nawala (2nd Class Upper Division) (2nd Major: Applied Mathematics, Minor: Physics)
Certificates in Graduate Mentoring in Mathematics (Under HETC Project, UGC, Sri Lanka, offered by Faculty of Natural Sciences, The Open University of Sri Lanka (OUSL), Nawala.
Certificate in Teaching Methodology in Higher Education (Currently in progress), conducted by the Staff Development Center (SDC), Sri Lanka Institute of Information Technology (SLIIT UNI), Malabe.
Most Viewed Researcher of Mathematics research papers (throughout consecutive 3 years) in the Department of Mathematics, Faculty of Natural Sciences, OUSL, on the reputed Research Gate (RG) platform.
Invited to serve as an Academic referee on Mathematics Research Papers by several renowned International Journals and Academic Publishers. (Taylor and Francis Journals, Lap Lambert, Dergi Park,...,etc)
Awarded the Mahapola & Bursary Scholarships from the Open University of Sri Lanka based on the academic performance.

Research Interests and Memberships
Research Interests
Advanced Euclidean Geometry, Analytical Geometry, Hyperbolic Geometry, Geometry of Manifolds, Mathematical Logic, Real Analysis, Undergraduate Pure Mathematics Education
Memberships
The Significance of Mathematical Logic and Mathematical Proofs in Learning and Teaching Mathematics (A review article: in preparation).
Right-angled Cevian Triangle Centers and their Distances. (Prepared).
In direct Proofs for Several Theorems in Advanced Euclidean Geometry. (In preparation).
Hyperbolic Versions of the Theorems of Advanced Euclidean Geometry.
Euclidean Metrics and Geometry in 3 Dimensional Euclidean Solid Objects.
Applications of Advanced Euclidean Geometry to Structural Analysis.
Journal Publications
Indika Shameera Amarasinghe " Problem 1938: A Proposed Problem on Equal Cevians, " Mathematics Magazine, vol.87, Issue 1, 2014, pp.62,
Indika Shameera Amarasinghe " A New Theorem on any Right-angled Cevian Triangle " Journal of the World Federation of National Mathematics Competitions, vol.24, Issue 2, 2011, pp.29-37,
Indika Shameera Amarasinghe " On the Standard Lengths of Angle Bisectors and the Angle Bisector Theorem " Global Journal of Advanced Research on Classical and Modern Geometries (GJARCMG), vol.1, Issue 1, 2012, pp.15-27,
Indika Shameera Amarasinghe " A Concise Elementary Proof for the Ptolemy's Theorem " Global Journal of Advanced Research on Classical and Modern Geometries (GJARCMG), vol.2, Issue 1, 2013, pp.20-25,
Indika Shameera Amarasinghe " A Prominent Correlation on the Extended Angle Bisector " Journal of the World Federation of National Mathematics Competitions, vol.24, Issue 1, 2011, pp.33-36,
Indika Shameera Amarasinghe " Aufgabe 1330: Cevians with Inverse Ratio Segments " Elemente Der Mathematik, vol.69, Issue 3, 2014, pp.162,
Indika Shameera Amarasinghe " New Proofs for Stewart's Theorem " Mathematical Spectrum, vol.43, Issue 3, 2011, pp.138-139,
Indika Shameera Amarasinghe " The Jungle Gym: Problem 260, A Perimetric Equation " Math Horizons, vol.18, Issue 4, 2011, pp.30,
Indika Shameera Amarasinghe " Proposed Problem 3590 and Its Solution " Crux Mathematicorum, vol.36, Issue 8, 2012, pp.545-559,
Indika Shameera Amarasinghe " A Nice Correlation On Quadrilaterals " Mathematical Spectrum, vol.44 & 45, Issue 3 & 2, 2012, pp.139, 88-89,
Indika Shameera Amarasinghe " Fun with Mathematics: A Mathematical Joke (A Review Article) " The Open Quarterly, vol.03, 2017, pp.22,
Indika Shameera Amarasinghe " A Visual Type New Proof for an Angle Bisector Inequality (Proofs without words) " The Open Quarterly, vol.3, 2017, pp.22,
Conference Proceedings
Indika Shameera Amarasinghe Advanced Plane Geometry Research 1 in Proceedings of the 66th Annual Sessions of Sri Lanka Association for the Advancement of Science (SLAAS), year 2010, University of Colombo, Sri Lanka, pp.66, Sri Lanka Association for the Advancement of Science (SLAAS),
Indika Shameera Amarasinghe Advanced Plane Geometry Research 2 in Proceedings of the 66th Annual Sessions of Sri Lanka Association for the Advancement of Science (SLAAS), year 2010, University of Colombo, Sri Lanka, pp.82, Sri Lanka Association for the Advancement of Science (SLAAS),
Indika Shameera Amarasinghe Advanced Plane Geometry Research 3: Alternative Proofs for the Standard Theorems in Plane Geometry year 2010, University of Colombo, Sri Lanka, pp.78, Sri Lanka Association for the Advancement of Science (SLAAS),
Book Chapters
Indika Shameera Amarasinghe " 4 Further Results in Euclidean Geometry " A. Ostermann, G. Wanner, Geometry By Its History, Ed. 1 st, 2012, Springer, pp.112,