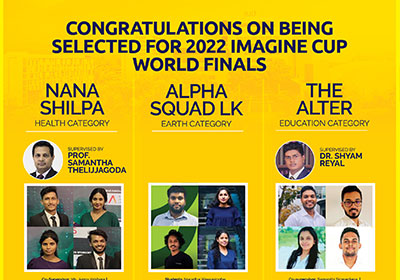 Congratulations to the undergraduates of SLIIT Faculty of Computing on being selected for 2022 Imagine Cup World Finals!
It is with great pleasure we announce that 03 undergraduate projects of SLIIT Faculty of Computing have been selected for the 2022 Imagine Cup World Finals. The 2022 Imagine Cup is a place where students can build together with like-minded peers around the world to make a difference. The competition enables students to create and showcase inspiring and inclusive projects using cutting-edge technologies while developing valuable skills for the future. This year, thousands of teams selected one of four competitions categories in which to develop a project – Earth, Education, Health, and Lifestyles. The winning team takes home the grand prize of USD 100,000 and a mentoring session with Microsoft Chairman and CEO, Satya Nadella.
The three teams that would be representing SLIIT are:
𝗘𝗱𝘂𝗰𝗮𝘁𝗶𝗼𝗻 𝗖𝗮𝘁𝗲𝗴𝗼𝗿𝘆 :
The Alter: Supervised by Dr. Shyam Reyal, Co-supervised by Ms. Samanthi Siriwardana and Collaborator Ms. Archchana Kugathasan along with the students: Sapthaka Godage, Dumindu Nissanka, Pathumi Uduwana and Shashoda Kalindu. The product aims at eliminating software product inconsistency by following SDLC best practices and ensuring the end product complies with HCI principles with minimal supervisor guidance, especially during the prevailing pandemic situation.
𝗛𝗲𝗮𝗹𝘁𝗵 𝗖𝗮𝘁𝗲𝗴𝗼𝗿𝘆 :
Nana Shilpa: Supervised by Professor Samantha Thelijjagoda, Co-Supervised by Ms. Jenny Krishara and external supervisor Dr. W.M.K. Wanigasingha along with the students: Chamil Diluksha, Kalpani Abeysinghe, Pamodya Maheshani and Prabath Shalitha. This is a mobile application developed for screening and refinement of dyscalculia and dysgraphia learning disabilities in primary school students using the Sinhala language.
𝗘𝗮𝗿𝘁𝗵 𝗖𝗮𝘁𝗲𝗴𝗼𝗿𝘆 :
Alpha Squad LK: by students Nuradha Weerasinghe,Hiruni Arunoda, Ravindu Dananjith and Dilshani Amarasinghe, which is a mobile application that helps the user find alternative foods from their immediate environment, thus increasing green technology and ultimately reducing world hunger.