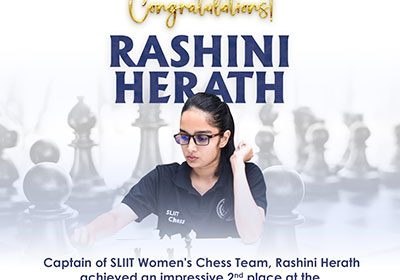 Congratulations, Rashini Herath…!!!
An extraordinary feat by Rashini Herath, the Captain of SLIIT Women's Chess, in the fiercely competitive arena of the Sri Lanka Women's National Blitz Chess Championship – 2023! With unwavering determination and strategic brilliance, Rashini, representing SLIIT, secured an equal 2nd place with 6.0 points.
In this electrifying tournament, Rashini's incredible performance fell just 0.5 points short of the 1st place, showcasing her exceptional skill and commitment to the game. A heartfelt congratulations to Rashini Herath for her remarkable achievement!