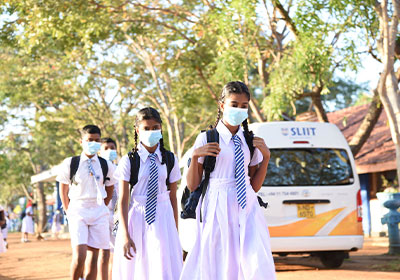 ශ්‍රී ලංකාවේ ග්‍රාමීය ප්‍රදේශවල සිසු දරුවන්ගේ තාක්ෂණික දැනුම වැඩි දියුණු කිරීමට උපකාරී වන TECH BUZZ SL සමාජ සත්කාරක වැඩසටහනට SLIIT ආයතනය දායකවීමේ අරමුණ වන්නේ ග්‍රාමීය ප්‍රදේශවල වෙසෙන දුවා දරුවන්ගේ ප්‍රාදේශීය වශයෙන් පවත්නා ගැටළු විසඳාගැනීම සඳහා තාක්ෂණය සමගින් නවෝත්පාදනයන් බිහි කිරීමට උනන්දුවක් ඇතිකරලීමට නවතම තාක්ෂණික ප්‍රවණතා පිළිබඳව දැනුවත් කිරීම සඳහාය.
තාක්ෂණය සමග වැඩි වශයෙන් ගනුදෙනු කෙරෙන මෙවැනි සමයක SLIIT ආයතනය News 1st සමඟ එක්ව TECH BUZZ SL වැඩසටහන් මාලාවේ පළමු පියවර ලෙස පුත්තලම ශාන්ත ඇන්ඩෘ මධ්‍ය මහා විද්‍යාලයේදී සාර්ථක ලෙස පසුගියදා පවත්වන ලදී. මෙම වැඩසටහන් මාලාවේ පළමු දේශණය ලෙසින් සයිබර් ආරක්‍ෂාව භාවිත කරමින් ඩිජිටල්කරණය වූ ලෝකයක සුරක්ෂිත වන්නේ කෙසේද යන්න පිළිබඳ SLIIT ආයතනයේ තොරතුරු තාක්ෂණ අධ්‍යක්ෂ චමින්ද බණ්ඩාර මහතා විසින් සිදුකෙරිණි . සයිබර් ආරක්‍ෂාව පිළිබඳ ඉගෙනීමට අමතරව, සහභාගිවන්නන්ට TECH BUZZ ට්‍රක් රථයේ ඇති නවතම VR තාක්‍ෂණය අත්විඳීමට අවස්ථාව ලැබූ අතර අතර එහිදී ඔවුන්ට VR උපාංග සමඟ විවිධ ක්‍රියාකාරකම් කිරීමට ද හැකි විය.
SLIIT aims to contribute to the TECH BUZZ SL Social Care Program which helps to improve the technical knowledge of students in rural areas of Sri Lanka is to solve the problems of Dua children locally in rural areas To raise awareness of the latest tech trends to create interest in in innovations with debt.
SLIIT along with News 1st successfully conducted the first step of the TECH BUZZ SL programme series in a season where technology is more dealt with. successfully last day at St Andrews Central College Puttalam. As the first lecture in the series, SLIIT Director of Information Technology Chaminda Bandara on how to be safe in a digitalized world using cybersecurity. In addition to learning about cybersecurity, participants got to experience the latest VR technology on the TECH BUZZ truck where they were able to do various activities with VR devices.