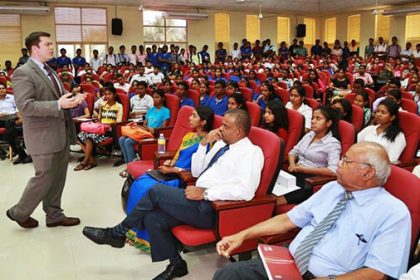 The Brandix Group engaged with nearly 1,000 undergraduates from leading Sri Lankan universities and professional institutions on the critical skills required for the future work place and also shared talent development insights of Brandix, Sri Lanka's single largest apparel exporter.
Two sessions conducted at the Universities of Kelaniya and Moratuwa recently under the 2014 edition of the Brandix Talent Forum saw thought-provoking presentations by the featured speaker Andrew Schmidt, Manager, Chief HR Officer Engagement (CHRO) of the Society for Human Resource Management (SHRM), USA. Representing more than 275,000 members in over 160 countries, SHRM is the world's largest HR membership organisation devoted to Human Resource Management.
Mr. Schmidt was supported by two Brandix presenters, Dhananjaya Rajapaksha and Arjuna Sirinanda, CEOs of Brandix Casualwear and Brandix i3, respectively.
"In terms of the enthusiasm and eagerness shown by the participants and the level of engagement achieved, in addition to the overwhelming numbers that were present, the 2014 Brandix Talent Forum was a tremendous success. These sessions enabled us to provide specific information that gave undergraduates insights into skills required to succeed in their future careers," said Ishan Dantanarayana, Chief People Officer of the Brandix Group.
He said the success of the programme had encouraged Brandix to consider extending it to other universities in Sri Lanka to promote better understanding and closer integration between higher education institutions and businesses.
Featured Speaker Andrew Schmidt commented: "The Talent Forum was an excellent opportunity for students to interact with top Sri Lankan business leaders. By hosting events like these and providing first-class technical training, the Universities of Kelaniya and Moratuwa are preparing their students with the full complement of skills they will need for career success."
Asitha Jayatunga, President of the Association of Human Resources Professionals (AHRP) added: "The Brandix Talent Forum provided an opportunity to help hundreds of graduates in their transition from the University life to work life. It provided them with the much needed soft skills which will be helpful in getting selected to a job, as well as tips on building a successful career."
The Brandix Talent Forum was a collaboration between Brandix and the Association of Human Resources Professionals (AHRP) which comprises of senior Human Resources professionals of the country's largest organisations who work towards providing professional development, an arena for networking, a focus for legislative intervention in national HRM issues and the sharing of experiences, knowledge and ideas to establish HRM as a dominant force in the business sector.
The Brandix Group also has collaborative partnerships with the Universities of Colombo, Peradeniya, Moratuwa, Kelaniya, Sri Jayawardenepura and Wayamba, the Sri Lanka Institute of Information Technology (SLIIT) and many other professional and academic institutions. In January this year, the Brandix Group launched a five-year collaboration with the Massachusetts Institute of Technology (MIT) and the Sri Lanka Association of Software and Service Companies (SLASSCOM) in support of the MIT Global Startup Labs (MIT-GSL) Sri Lanka Programme.
Brandix employs over 47,000 Associates directly, while generating indirect employment to an equivalent number. The Group is supported by over 38 integrated manufacturing facilities in Sri Lanka and is strengthened by a 1,000-acre industrial park operation in India. Brandix also runs a large operation in Bangladesh. The Group is backed by strategically located international sourcing offices globally. Brandix is one of the largest suppliers of apparel to top retail brands in the US and Europe.
Brandix Talent Forum Benefits 1,000 Undergraduates for More Info
Click Here